Holland Innovative has considerably strengthened its team of trainers for the Project Management Masterclasses. With their diverse backgrounds and complementary expertise, HI always has an answer to every competence question. Together, the five are constantly discussing improvements to the curriculum.
How do you create the best masterclass for project managers? Put a number of seasoned project managers together and let them take care of the training. With their broad knowledge and years of experience, they are the perfect candidates to help their novice colleagues on their way, and to teach more experienced project managers the tricks of the trade.

That is exactly the approach that Holland Innovative has chosen for the series of masterclasses it offers on project management. The driving forces behind the training program are Karel Kalma, scientific director for the competence project management within HI, and Wim Schouten, senior project manager at the Eindhoven organization. Karel says: "At the beginning of this year we started to expand the team of trainers so that we can complete and diverse the Masterclass with more experienced project managers."

There is now a strong five-person team. In addition to Karel and Wim, these are Martijn Dekker, Edo Riemersma and John Kempeneers. "Together, we cover the entire domain of project management in several industries," says Karel.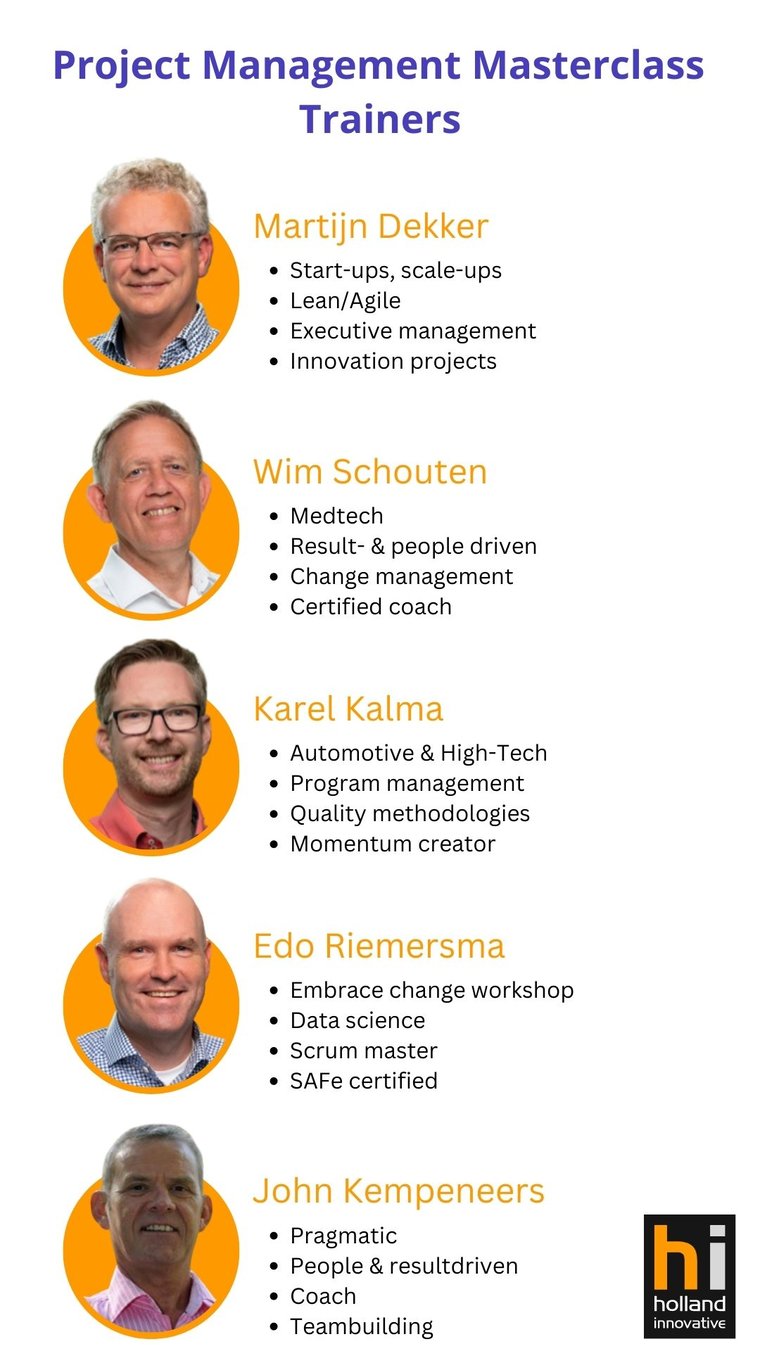 Ready to improve your Project Management knowledge? Click here to learn more about the PM Masterclass.
Martijn and Edo
Karel is happy to introduce his team. "Martijn Dekker has been involved in start-ups and scale-ups a lot, and he still does on a regular basis. He knows exactly how to implement lean and Agile project management in an organization. He also has extensive experience in executive management and innovation projects. He is also very familiar with subsidy processes. Recently, for example, he stood in front of a group of project managers from universities of applied sciences. The subsidized projects they run are very different from your average high-tech project. Martijn therefore spent extra time on how to manage a subsidy project, which resulted in a lot of interaction. We always try to respond to the specific needs of the group."

"Edo has a lot of experience in setting up Agile and scrum. He is SAFe certified and has set up entire departments within companies based on the Scaled Agile Framework," says Karel. In addition to the Masterclass, Edo is also very closely involved in the Embrace Change Workshop of Holland Innovative. "Many companies are thinking about working more Agile, but that method is not suitable for all organizations. How do you know if it's the right choice for your situation? For that you must of course first know about Agile. Together with Edo, we have therefore developed a workshop that focuses precisely on that point. It provides a general overview of change management, with an emphasis on Agile. What can you do with it? Does it also work for non-software projects? Agile has many advantages, but it also brings limitations. During the workshop, interested parties will receive a complete overview of what is possible and whether it fits in their organization. Sometimes the way of working turns out not to be suitable at all, or only partially, and it is better to find the balance before turning your entire company upside down."
Wim, John and Karel
Wim Schouten has earned his spurs in medical technology. "He is both result- and people-oriented and has a coaching style of working," says Karel. "In addition to his role as project manager and trainer, he is also a coach because he likes to listen, to give support and to interact with professionals. The human aspect and communication, that's where his strength lies."

The newest team member is John Kempeneers. "He was involved in HI training before and is now back," says Karel. "John is very pragmatic and an excellent coach. He is also strong in building a team."

Karel himself has more than earned his project management spurs, particularly in the automotive industry. He worked for ten years in Germany at ZF, the Toyota and Ford Formula 1 team, and then in the Netherlands at DAF Trucks, Inalfa, Maxi-Cosi and ASML. "I came to the conclusion that I wanted to share my knowledge about project management," says Karel. "Not within a company, but in an independent way. That's how I ended up at Holland Innovative." There he is program manager for an external client, trainer and scientific director for project management to continuously innovate and share the competence.
Want to know how our Project Managers can bring your project to a higher level? Click here to talk to one of our project management specialists.
Cross pollination
The strength of the current team is that all trainers bring something unique. "We have a wide range of competencies", says Karel. "We sit together in class so that we can learn from each other and to give direct feedback. In this way we help each other further, also because we can assist each other during a training if there are questions to which one can provide a slightly more in-depth answer than the other."

This cross-pollination is very important for the quality of the Masterclass. This is further reinforced by the broad field in which Holland Innovative has seconded its project managers; from high-tech and medtech, to machine building and consumer goods. "We pick things up everywhere," explains Karel. "From our project managers in the field and from our seasoned trainers."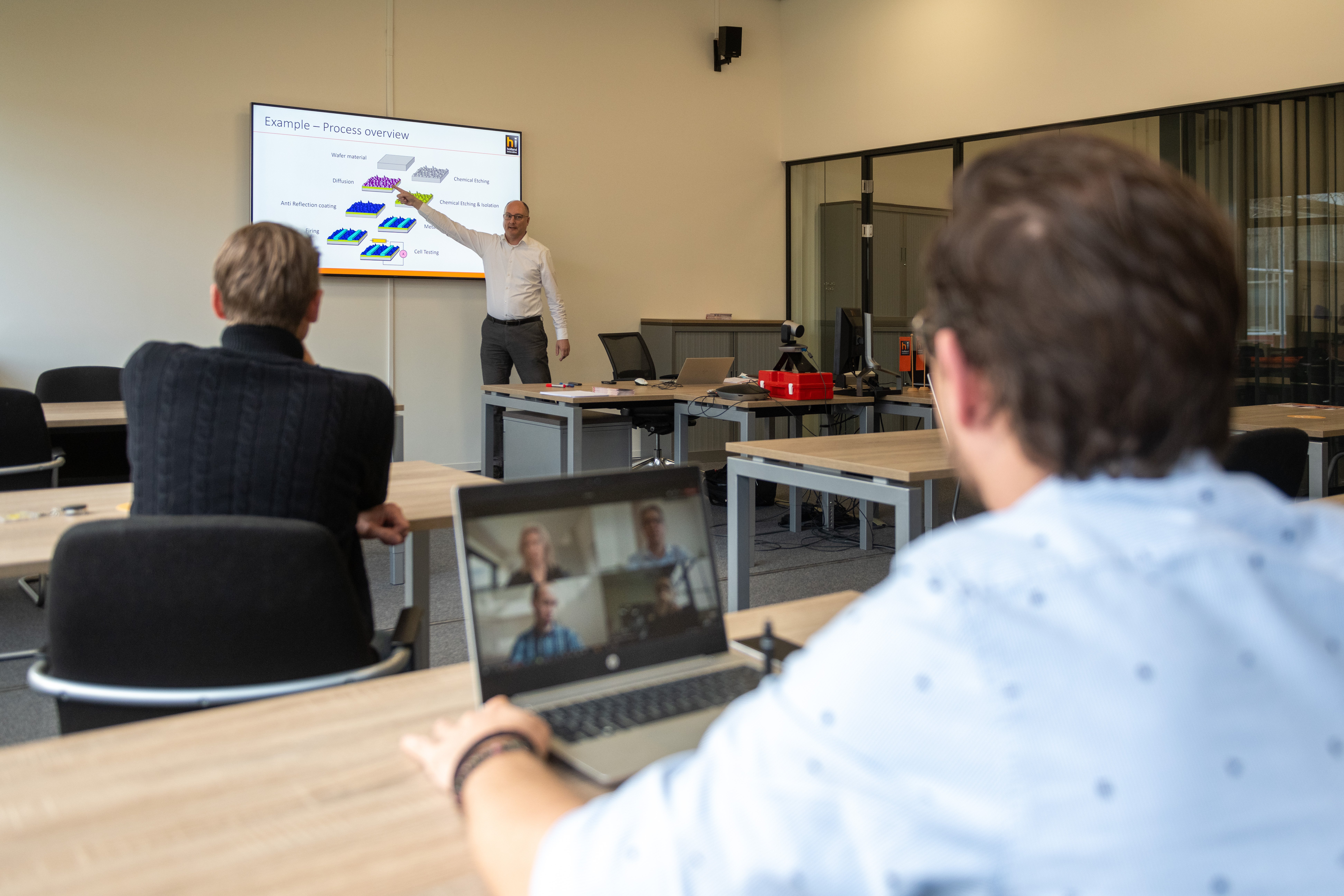 PM Masterclass 2.0
This summer, the team of trainers gathered to update the PM Masterclass. With a strong basis on our own book: "The Complete Project manager" together we accelerate and strengthen the already proven masterclass. "We then all contribute from our own expertise", says Karel. With Wim as the driving force, the second day of the Masterclass - which is largely devoted to leadership - has received new points of attention. "Nowadays we work a lot in Teams or Zoom, or work in a hybrid way. As a project manager you have to adapt to this. We have also added a piece about the many different cultures that you often encounter in a project team these days. In any case, communication in the Netherlands is quite special, but things are not all the same in other countries either. I've worked with people from China and the US and everything in between; that's a world of difference. Project managers must be aware of the fact that everyone communicates in a different way. We are now also handing over that knowledge."

The PM Masterclass 2.0 also pays more attention to Agile. "Martijn and Edo have the most experience with this, but the other trainers have also contributed from their own experience," says Karel.

Another adjustment is that the Masterclass pays more attention to change management. "After all, nothing is as subject to change as a plan," laughs Karel. "You have to find your way in that. Today, for example, there are many challenges in the supply chain. How do you deal with that? I notice it myself in practice that it is puzzling every day what is and what is not possible. Time to market is an issue of all times for many companies, but how do you ensure that despite all the changes you stay ahead of the competition and are first on the market? You will have to approach this robustly in your plan. Perhaps it is wise to enter the market quickly with a minimal viable product and to have a number of improvements in the pocket. We are now also discussing that in the Masterclass."

"Last but not least, with our broad experience and diverse team we are able to offer our PM Masterclass much more customer specific," says Karel. "Based on the customer request we define which trainer fits best on the request, just because of the specific customer need and the background and experience of our trainers. With a growing team we even can accelerate more for the future."

This results also in new products which will be explained in our next blog:
• Project management Foundation & Kickstart (1 day)
• Project management Practitioner Booster (2 days)
• Advanced Leadership Program (6 days)
• Embrace Change: Agile & Lean (1 day)
• Leadership in product innovation (4 days)
Like to learn more? Book a free call with one of our specialists here:
Click here to read more about how Holland Innovative is taking the next step in Project Management to serve our customers even better.