Are you thinking about advancing your career and improving your skillset with a Six Sigma Green Belt certification? You're in the right place. Let's dive into what this certification is, why it could be a good fit for you, how to achieve it, and the difference between Lean and Six Sigma certifications.
What is a Green Belt Certification?
Six Sigma Green Belt certification is a professional credential that showcases your skills in process improvement and product development. As a Green Belt, you're recognized as someone who can structure problems effectively, approach them systematically, and use statistical techniques to analyze data for diagnosis and optimization.
A Green Belt has a deep understanding of quality control models and reliability and has proven their ability to apply various problem-solving techniques. In essence, a Green Belt certification is a testament to your ability to drive efficient, effective operations and spearhead quality improvement in an organization.
Is Getting a Green Belt Certification Worth It?
In one word: Absolutely.

From a personal perspective, having a Green Belt certification opens doors to new career opportunities and accelerates your professional growth. It demonstrates your capability to lead substantial process improvements, making you a valuable asset to any organization. The skills and knowledge gained through the certification also empower you to deliver significant cost savings, improve service quality, and boost customer satisfaction.

But let's also look at this from an organizational perspective. Having Green Belt certified professionals within a team can be a game-changer. These individuals are equipped with the skills to identify, analyze, and resolve problems that impact operational efficiency. They are trained to drive sustainable quality improvements, enabling organizations to deliver consistent value to customers. In essence, Green Belt certified professionals foster a culture of continuous improvement, enhancing the organization's capability to navigate through business complexities and adapt to changes more effectively.
Green Belt vs Black Belt Certification: What's The Difference?
In the world of Six Sigma, both Green and Black Belts are vital. They represent different levels of expertise and different roles within a project team. However, when deciding which one to go for, it's essential to understand the key differences between the two.
A Green Belt certification, as we've already explored, focuses on equipping you with skills to analyze and solve quality problems. Green Belts are often part of a larger Six Sigma management team and contribute their skills and knowledge to smaller scoped projects within their regular job role.
On the other hand, a Black Belt certification takes your Six Sigma training to the next level. Black Belts are seen as experts in the Six Sigma methodology. They often lead larger projects, manage Green Belts, and dedicate their full time to Six Sigma project implementations within the organization.
While a Green Belt project should demonstrate a clear application of Six Sigma principles with benefits exceeding €20,000 annually, a Black Belt project demands a more substantial contribution. It requires the application of advanced statistical tools and has a higher financial impact, often in the range of €100,000 and above annually.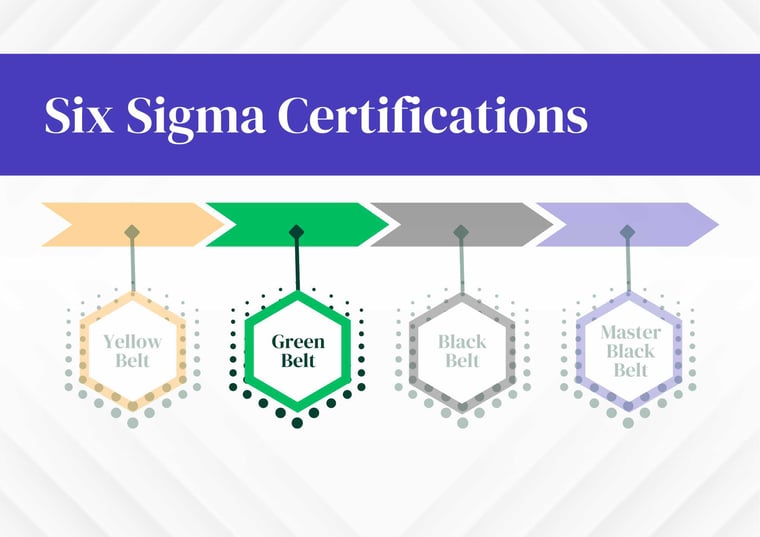 The Path to Green Belt Six Sigma Certification: How to Get Certified
Obtaining a Green Belt certification is a rigorous but rewarding process, comprising three components.
Enroll in a Green Belt Six Sigma Training
To begin your journey towards Green Belt certification, the first step is to enroll in a comprehensive Green Belt Six Sigma training course. This training will lay the foundation for your Six Sigma journey, allowing you to learn the methodologies, understand statistical techniques, and explore the principles that drive quality improvement and process efficiency. It's an exciting opportunity to gain the knowledge and skills necessary to excel in your certification journey.
Theoretical Examination
Second, you'll need to undertake a theoretical exam. This comprehensive test evaluates your understanding and application of the Six Sigma methodology and associated techniques. This is an open-book examination, so you're allowed to bring along and consult your notes, textbooks, and other materials.
It's an opportunity to demonstrate how well you can use the principles of Six Sigma in practical situations, and how effectively you understand statistical output produced by tools such as Minitab. The exam is delivered in English and includes 40 multiple-choice questions. You'll need to score a grade of 5.5 or higher to pass this stage of the certification.
Six Sigma Project
The final major component of the certification process is the submission of a completed Six Sigma project. It's not just about showing your theoretical understanding but demonstrating that you can practically apply the principles and techniques in real-life scenarios.
Your project must illustrate a successful application of Six Sigma methods that have led to substantial benefits. Monetary benefits should exceed €20,000 annually. However, projects with non-monetary benefits are also evaluated by the board of examiners for their significance and impact.
The submitted project should be well-structured, aligning with the DMAIC or DIDOV steps, and must be complemented by a statement from the project champion and a controller, verifying its authenticity and effectiveness.
Our all-in-one Green Belt Six Sigma Package
When you enroll in our Green Belt Six Sigma Training, we will be with you every step of the way, providing full support. You have the option to choose the training alone or upgrade it to include the examination and certification. Additionally, we offer extra assistance through our coaching card, which will guide you throughout your project and certification journey.
Click here to learn more about our Green Belt Six Sigma Training.
Lean Six Sigma vs Six Sigma Green Belt Certification
While both Lean and Six Sigma are methodologies aimed at promoting efficiency and reducing waste, they differ in their focus areas.
Six Sigma, which encompasses the Green Belt certification, is all about reducing variation and improving quality. It employs a statistical approach, relying heavily on data to identify defects and implement improvements.
On the other hand, Lean focuses on streamlining processes and eliminating non-value-added activities, or 'waste.' It emphasizes enhancing flow and speed in a process, thus delivering value to the customer more quickly.
The two methodologies are often combined into 'Lean Six Sigma,' harnessing the benefits of both to maximize efficiency and quality.
Conclusion
In a nutshell, the Six Sigma Green Belt certification could be a beneficial addition to your professional toolkit. Whether you're looking to make improvements in your current role or hoping to increase your career prospects, the knowledge and skills you gain through the certification process are invaluable.
Ready to take the next step in your professional journey? Sign up for our Green Belt Six Sigma Training today or book a free introduction call to learn more about the Six Sigma methodology. Embark on your Six Sigma journey and start making real improvements in your organization.
Click here to learn more about our Green Belt Six Sigma Training.