For big and small companies alike, the temptation to forget about a regular FMEA is huge. Indeed, why worry about failure when everything seems to run smoothly? It's an understandable but regrettable pitfall for every high-tech enterprise. Reason enough for several dozens of engineers to attend the FMEA Inspiration Day 2023, organized by Holland Innovative in collaboration with ASML and the Knowledge Sharing Centre. It was a day filled with insightful plenary sessions and engaging breakout discussions. Best practices, shared knowledge, and valuable insights to navigate the complexities of risk management effectively were at the heart of this day.
For co-organizer Hans Meeske, it's all about sharing views and insights. "I know that there are dozens of textbooks filled with methods. But for me, that is of less importance. I think the most important is the mindset that you start doing it. It should be tailored to your own organization, but again, the most important is to just do it."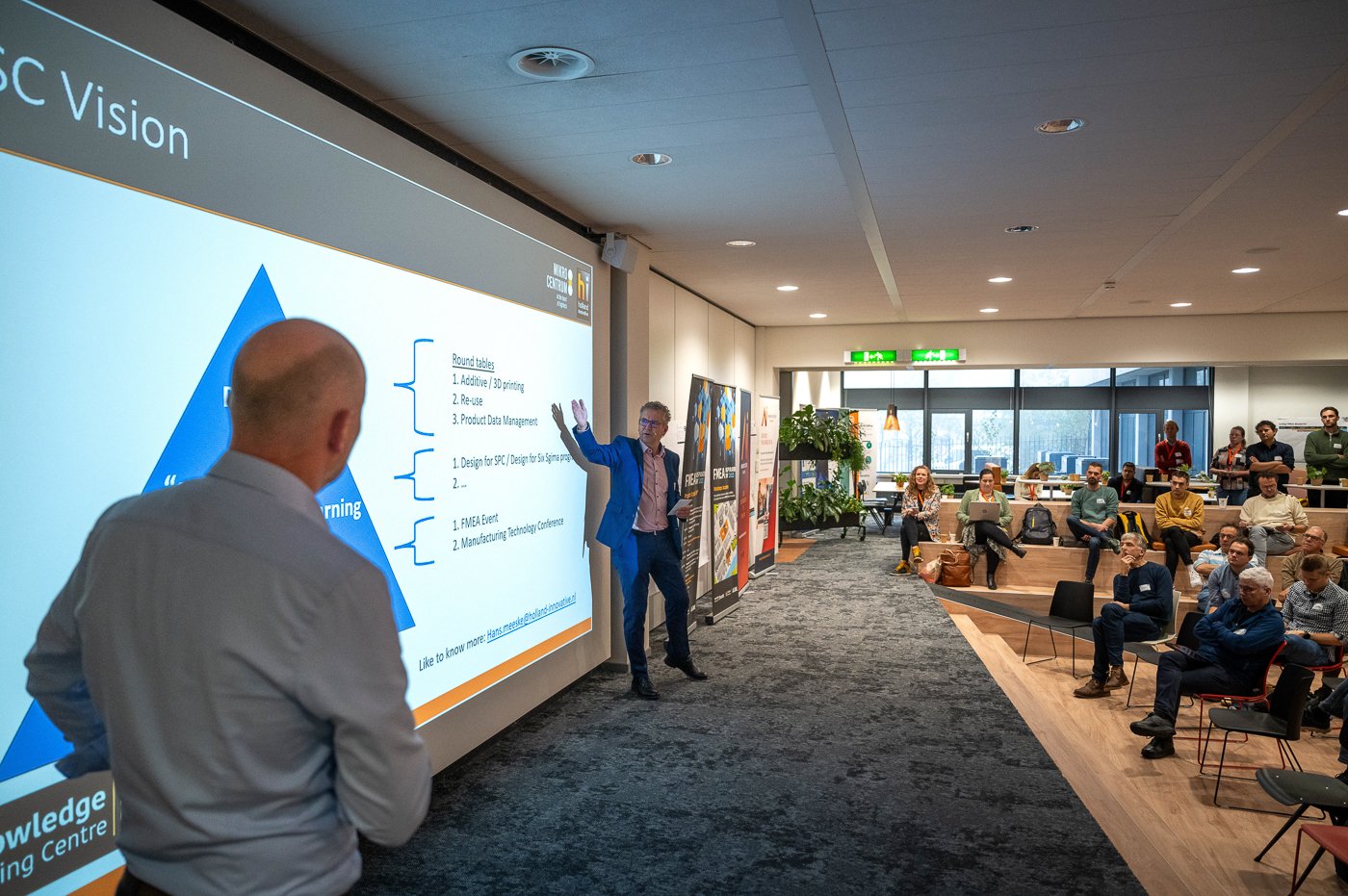 Failure Modes and Effects Analysis (FMEA) is a systematic, proactive method for evaluating a process to identify where and how it might fail and to assess the relative impact of different failures, to identify the parts of the process that are most in need of change. The Inspiration Day gave ample opportunity to address several aspects of this process, from the human factor to data collection and from leadership to building a 'living document' that is accessible to everyone involved in the FMEA process.

Acting proactively
The importance of FMEA was already shown by the day's first speaker, ASML's Wijnand van Kooten. While most people consider ASML the next-to-perfect chip machine builder, Van Kooten painted a different picture. "Our customers say we need to improve our new machine quality. They pay extreme amounts of money, and what happens? Machines don't function the way they expect. There are incidents, variations, long downs, and software issues. We must learn from them, and FMEA can play a big role."
Van Kooten gives an example of a factory using a 100,000-component EUV machine. "What can happen is that there is a failure. But if one thing fails, the whole factory is down. This has a tremendous effect because no production is possible. I don't have to explain to you as an FMEA fanatic that FMEA plays an extreme role in that to prevent this. Many issues can arise if we don't pay enough attention to FMEAs upfront. I'm strongly advocating a shift to proactively managing your risks instead of the issues. That is the voice of the customer."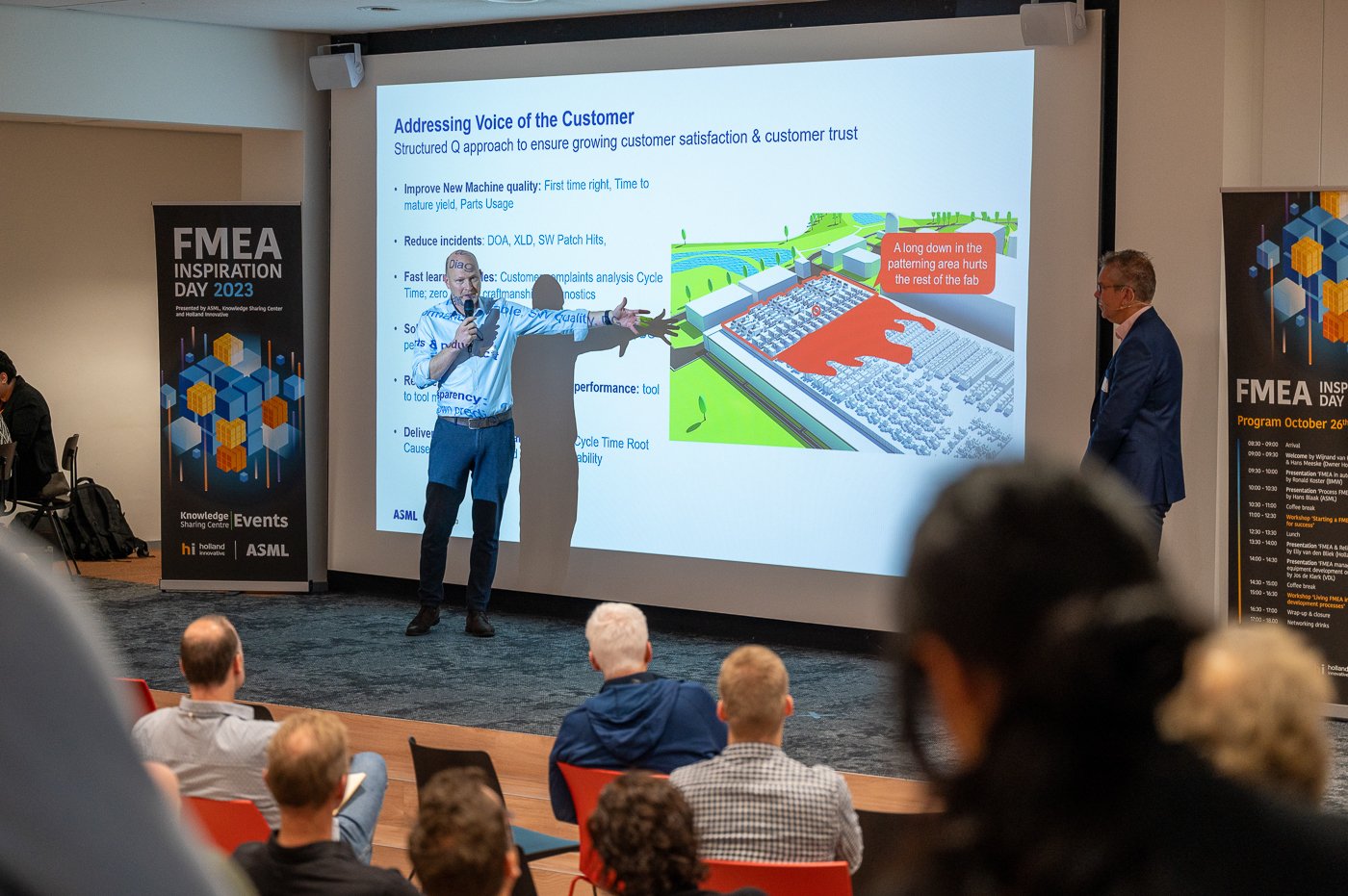 Failure-free products
BMW's Ronald Koster explained how focusing on preventive quality methods throughout the different stages of the development process ensures high-quality products. "FMEA is one way to ensure failure-free products in the development process." Because BMW now has around 250 different FMEA procedures running, this is not something they can do all by themselves. "We are supported in this effort by a company like Holland Innovative to guide us through this process." Moreover, BMW uses all sorts of FMEAs, each with a special function of filtering quality-relevant parameters from the development process. "In all these cases, our goal is to find and change the abnormalities early in the process, which is way more effective and cost-efficient than when you do it later."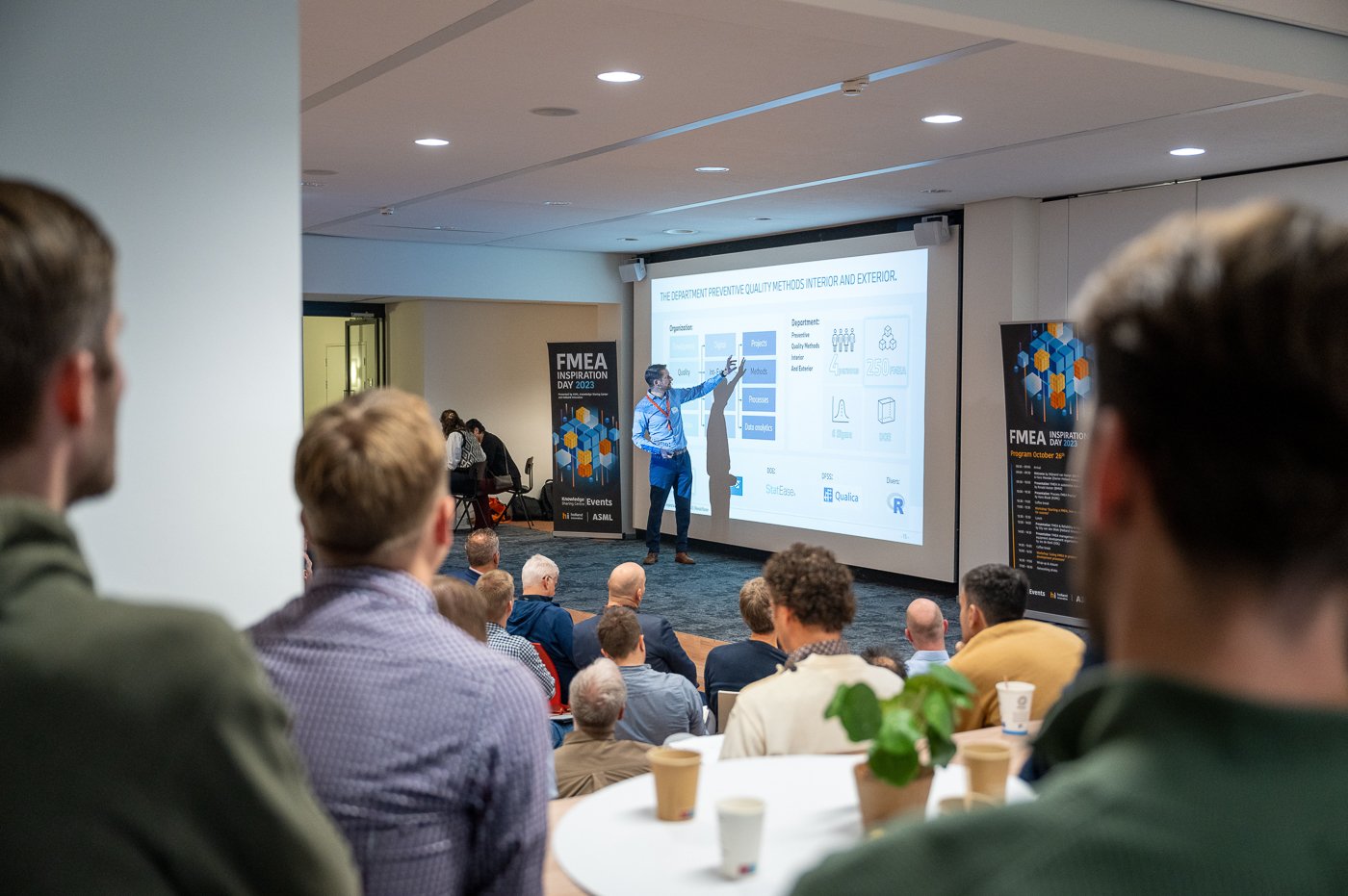 Koster admits it's "not sexy" to talk about what can go wrong while developing. "But it's important. For BMW, FMEA is always an integral part of the design and production process, an important tool for identifying the special characteristics that are used as preventive measures to ensure great quality."
Reliability & FMEA
After Hans Blaak, supply chain engagements expert at ASML, explained the difference between Design FMEA and Process FMEA with an enlightening example, it was up to Elly van den Bliek to explain the role of reliability within FMEA. As a ​​senior Reliability & Functional Safety Specialist at Holland Innovative, she especially spoke about the importance of "making the FMEA a living thing and keeping it alive". She was able to combine the FMEA, used as a risk assessment tool, with the concept of reliability. Her description of what reliability is all about ("The probability that a system will perform its prescribed function without failure for a certain period of time when operated correctly in a specified environment and under stated conditions") was the start of a deep dive into customer demands, government requirements and all sorts of liabilities. "Especially with all the extra needs caused by global sustainable development goals, we are forced to do 'something' with reliability and risk management."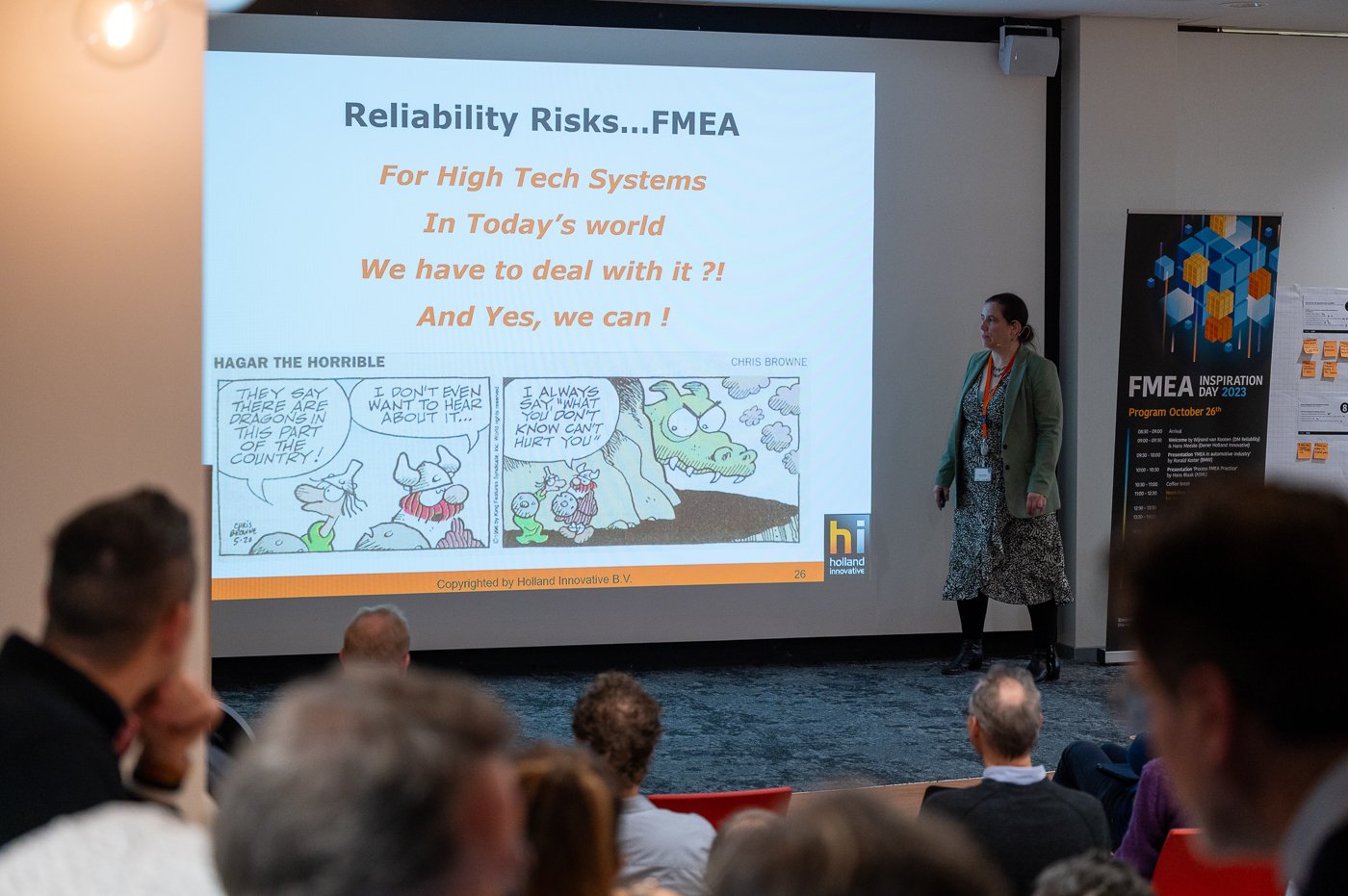 What this 'something really is, will depend on the innovativeness of the company. "If we translate that into the FMEAs and reliability of our high-tech products, it says we need to do more about life cycle management. However, within the high-tech industry, this is difficult because high-tech systems have a high degree of innovation, which means we've never done it before, so we don't have a clue how it's going to work, let alone how it's going to fail. Even more so because we are working with a huge supply chain making your design and development much more complex - and risky." Only by 'designing for reliability' we can find an answer to these challenges, Van den Bliek concludes.
Rapid learning cycles
Together with a colleague, VDL's Jos de Klerk explained how VDL is always using FMEA as a part of product generation process. He also introduced the term 'rapid learning cycles', to structure the development of knowledge in such a way that design decisions can be taken with an acceptable risk. It's all about taking decisions as late as possible, he said. "This may sound counterintuitive, but by pulling the learning aspects forward to identify and remove obstacles as soon as possible, we are able to push decisions to the later stages of development, so we can preserve flexibility as long as possible."
These rapid learning cycles are all about reducing your risk, De Klerk said. "This is because in many cases, you have a lot of design decisions to take, with a lot of uncertainty. And if you take a wrong decision, it has a huge effect, also on costs. That's why we started this structured approach. You identify the knowledge gaps, you put them into a timeline, and close those knowledge gaps one by one. And in the end, you take a key decision. It's maybe not fully FMEA, but it's our way of reducing risk of a critical design decision."
Mindset is key
At the end of the day, it all comes down to the active participation of everyone involved in the FMEA process. After a full day of keynotes and workshops, it became clear to everyone: without the involvement of the whole organization (more specifically, the support of the organization's management and the participation of all disciplines), any FMEA will fail. As one of the participants concluded: "80% of your FMEA structure is about behavior, the rest is tools and handbooks and so on. The mindset is key." And connecting with all of this day's speakers: "The difficult thing in an organization is that an FMEA is always a bit disappointing, because nothing seems to happen because of an FMEA. But without an FMEA, you are sure that failures will arise."
Take your FMEA's to the next level
After such an exciting day, the most asked question by the participants was: I want to improve my (company's) FMEA capabilities further, but where do I start?!
For this, we offer the following options:
Join our upcoming FMEA facilitator training, click here to learn more.

Get a delivery-based, fixed-price FMEA Facilitator from Holland Innovative to make your next FMEA a delightful and productive process. Book a complimentary FMEA consultation with us here.